Volunteer job descriptions, aka volunteer role descriptions, are often overlooked.
However
, they are an important part of recruiting great volunteers. The volunteer job description is your opportunity to communicate expectations and set accountability.
Nothing is worse as a volunteer than being uncertain of what to do and thus feeling unnecessary. Nothing is worse as a supervisor than having uncertain and discouraged volunteers. Both of these dilemmas can
be avoided
right off the bat with a clear volunteer job description.
The Importance of Clear Volunteer Job Descriptions:
Sets expectations
Provides accountability
Helps match volunteers with the right role
Gets ahead of questions to prevent excessive back-and-forth communication
Gives potential volunteers a sense of confidence and excitement
Before getting started...
Step 0: Take time to assess your organization's specific needs. List each task that volunteers can help with, how many people would be ideal, and how often. This list will help you immensely as you move forward.
Example list:
Childcare: 2 people, M-F, 4:00-6:00 pm
Donation sorting: 2 people, 1x/week, 2 hours in the morning
Activity host: 1 person, 1 Saturday/month, 12:00-4:00 pm
Free Volunteer Job Description Template
The formula for a well-crafted, clear volunteer job description:
1. Role Title
You don't want to recruit general volunteers. Before long, general volunteers without a clear role become confused and unmotivated. They thus become ineffective. Volunteers thrive with responsibility and accountability. Placing them in discrete positions is the first step.
2. Qualifications
Tell your prospects exactly what kind of person you are looking for. What values, skills, or certifications does your ideal volunteer have? This information will reinforce your expectations and help people determine whether the role would be a good fit for them. The requirements must be clear enough for someone to read and think 'wow, this is totally me' instead of being left unsure.
3. Responsibilities
Detail what a typical shift will look like for each volunteer job. Get specific! Your volunteers should have a good idea of what they are signing themselves up for. Then you can be confident that everyone is taking on a role that is a good fit for them.
4. Time Commitment
Make sure your prospects know how big (or how small) of a commitment they will make. Even if the times can be flexible, it is still important to set general expectations. Letting volunteers know how much of their time you are asking for shows that you respect their time.
5. Location
If your organization operates in many locations it is important to state where each role will be working explicitly.
6. Training
If the role requires special training, be upfront about it and share details about what it will look like.
7. Supervision
Include who they will be answering to and how often they will check in.
8. Perks
Although volunteers are typically motivated by their passions and the goodness in their hearts, little perks can act as an extra incentive. Things like a free t-shirt or meal after serving are great. *Note that this is especially effective when looking for student volunteers.
9. How to Apply
Make the next steps as easy as pie for your prospects! Provide a link to the application, directions, and a contact for more information. Be sure to follow up with everyone as soon as possible, you typically only have a small window of time before their interest starts to wither.
Example: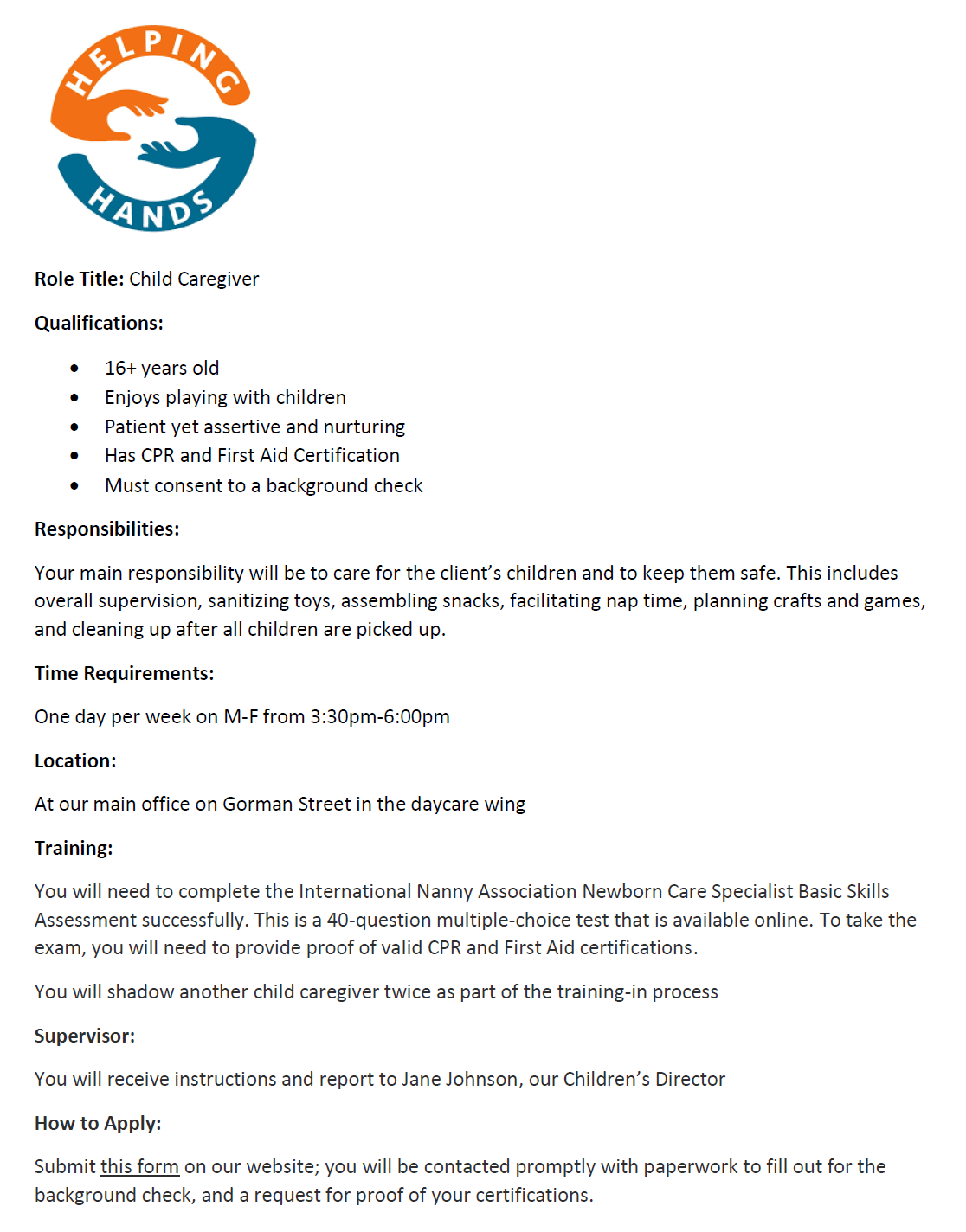 Explore Other Recent Articles